deVOL Kitchens
We all agree a bright white kitchen is timeless and fresh, I'm the first one to jump on this wagon and  then add small details to give warmth such as copper, brass or chrome accents… However, recently we have seen more and more colorful cabinets and/or tiles, even appliances; and yet, the results are often polished and edgy. But how to get it right? How to choose a colour that keeps the kitchen elegant yet trendy and that will not bore you in a year? After all, the kitchen is the heart of the home, so better give it a lot of attention and character!
1/ The cabinetry
Personally, I prefer dark, rich hues  for a polished look. However, pastel colours have also entered the kitchen and give this delicate and romantic feel to the space… Whatever your style, I would strongly advise against any colour that look too bright, as it might look cheap, and you'll probably be tired of it quickly. If bright colours are your thing, consider adding them as accents, like a shelf rather than going for all the cupboards. Alternatively, if you want to add colour but want to remain more "neutral", you can always do bicolor cabinetry (shown pic 4) or just have the kitchen island done in your favorite shade. HOWEVER, if you want to go bold and add colorful cabinetry, you have to be mindful about the other parts of the kitchen. For a sophisticated, polished look, pick a more traditional and stylish countertop and backsplash; I personally favor marble-like countertop as it instantly looks more elegant and it is timeless, and I would even go for a matching backsplash; but some tiles for backsplashes work perfectly fine, as we can see in the first picture below. Another thing to pick carefully when having colourful cupboards, the handles, pulls and knobs, it is important to pick something that will complement the colour and for brass, copper and chrome will certainly do the trick; they work perfectly with deep hues, making them even more rich and they add elegance to pastels. If bright metallics are not your thing, then go for clear, crystal-like pulls, handles and knobs; it definitely completes a polished style.
To sum up:
Choose deep, darker shades or pastels – Bright artificial colours are an absolute no no!
Add a more traditional, neutral countertop and backsplash; marble-like ones are my pick for an elegant finish.
Elevate the design with brass, chrome or copper accents, such as door knobs, pulls and handles and even faucets etc…
For a more "neutral" look, consider having only the kitchen island or only the top or bottom cabinets in your favorite shade.
Black Lacquer Design

Dahlarna

Lauren Conrad

Sarah Sherman Samuel
Mercury Mosaics
Homebnc

KS Design Studios/Instagram

Pinterest
Black Lacquer Design
2/ Vibrant tiles
Incorporating colour through tiles is a great way to make a statement but in a more subtle way.  I like patterns in tiles, so it gives this ethnic chic atmosphere in the kitchen, and adds colour without overwhelming the room.
Ginny MacDonald Design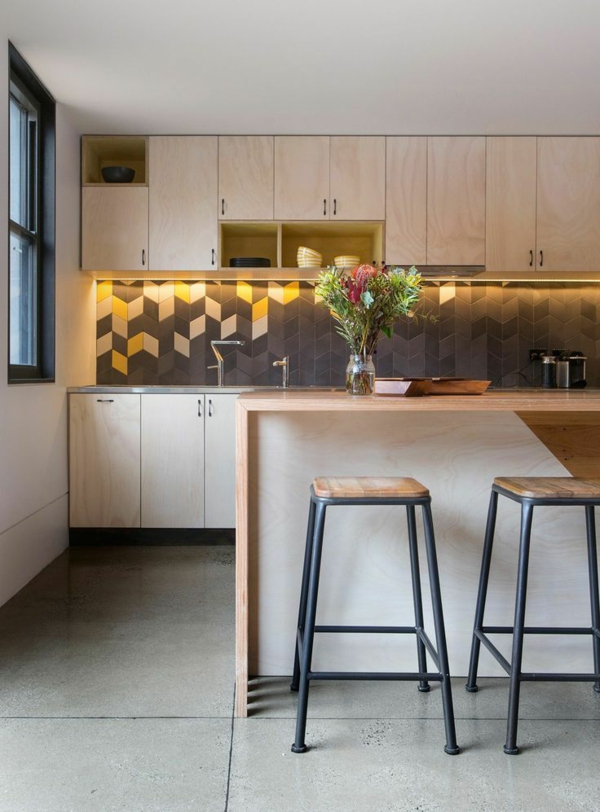 Archzine.fr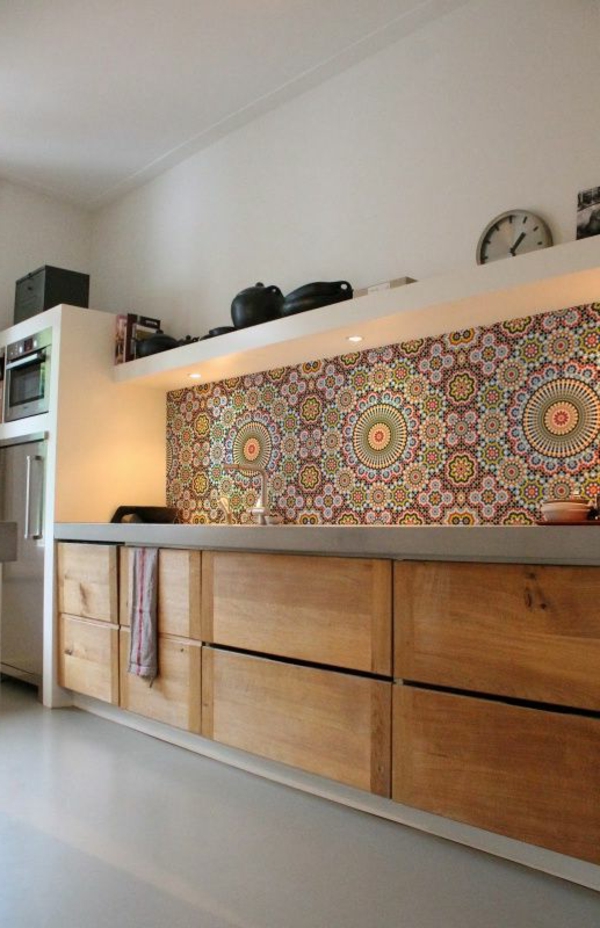 Archzine.fr

Pinterest
Stone Impressions
You can also create a "rug effect" with colourful tiles:

Marie Claire Maison
3/ Appliances
If you want to add some fun to your kitchen, colorful appliances are definitely the way to go. The good thing is that it's easy to replace when you're tired of it, unlike changing the whole cabinetry… However, in my opinion, coloured appliances are fun and cute but if your goal is to add colour while remaining elegant and timeless, it is better to opt for more neutral coloured or dark shades appliances, as brighter colours sometimes (but not overtime, see pic.5 below), look a bit kitschy. Here are few pictures, I let you be the judge:

Remodelista
La Cornue

Atticmag

My Domaine

Better Homes and Gardens